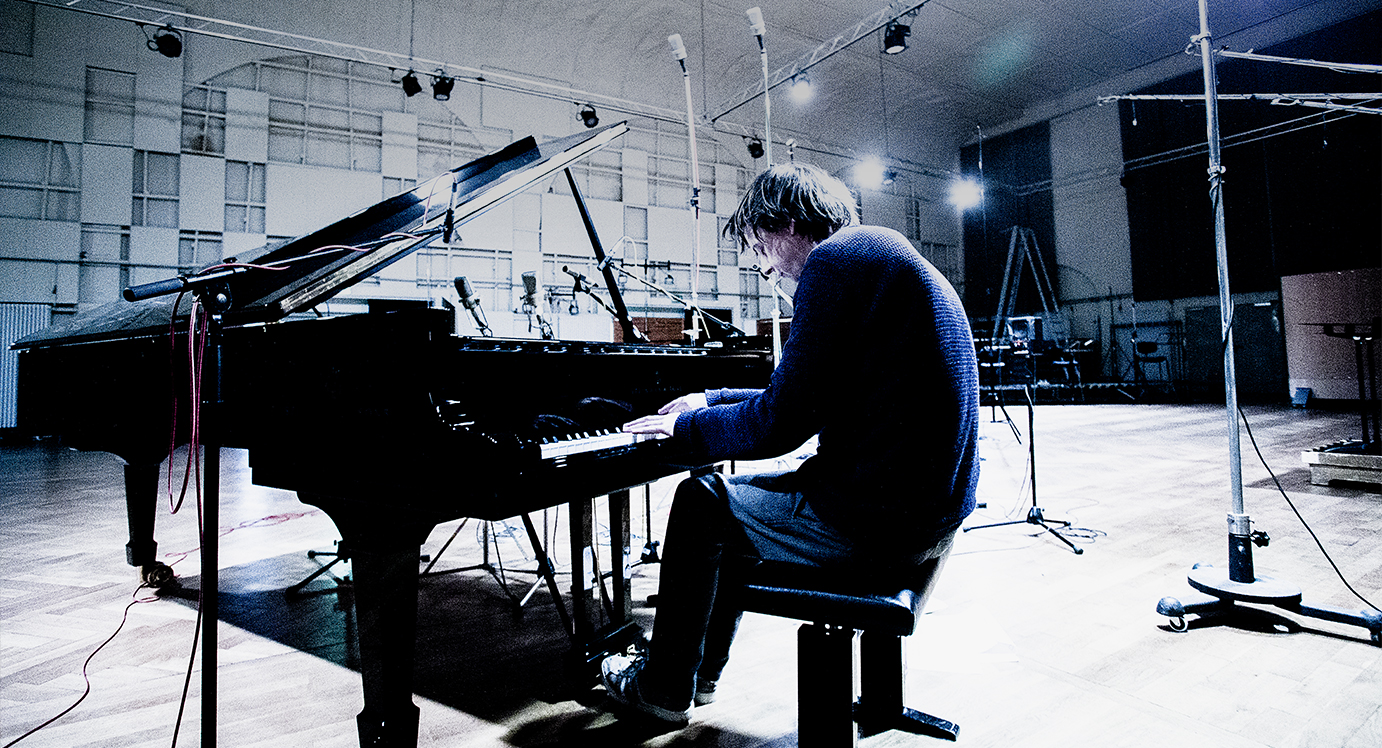 Within the broad range of Michael Wollny's musical formats, from duo to trio to orchestral projects, solo piano concerts and recordings have so far been a real rarity. The main reason for this is probably Michael Wollny's curiosity for new musical partners. And his pleasure in the collective search for the magic of the moment. However, Wollny has long had the desire to devote himself more intensively to the solo format and now, after many collaborations with artists such as Nils Landgren, Emile Parisien or Vincent Peirani, as artist in residence and soloist with the Norwegian Wind Ensemble, and several special projects with literature, drama and for the 100th Bauhaus anniversary, it seems that the time for an introspective has come. The musical basis for Wollnys solo concerts and his 2020 solo album "Mondenkind" connects a wide range of epochs and genres. Just like with his trio concept albums "Nachtfahrten" and "Weltentraum", the repertoire ranges from early music, classical and jazz to contemporary music Wollny's own compositions, and Wollny proves once more that he can "turn every imaginable music into an experience that takes your breath away." (Süddeutsche Zeitung)
Albums:
Mondenkind, 2020
Hexentanz, 2007
Mondenkind (Official video)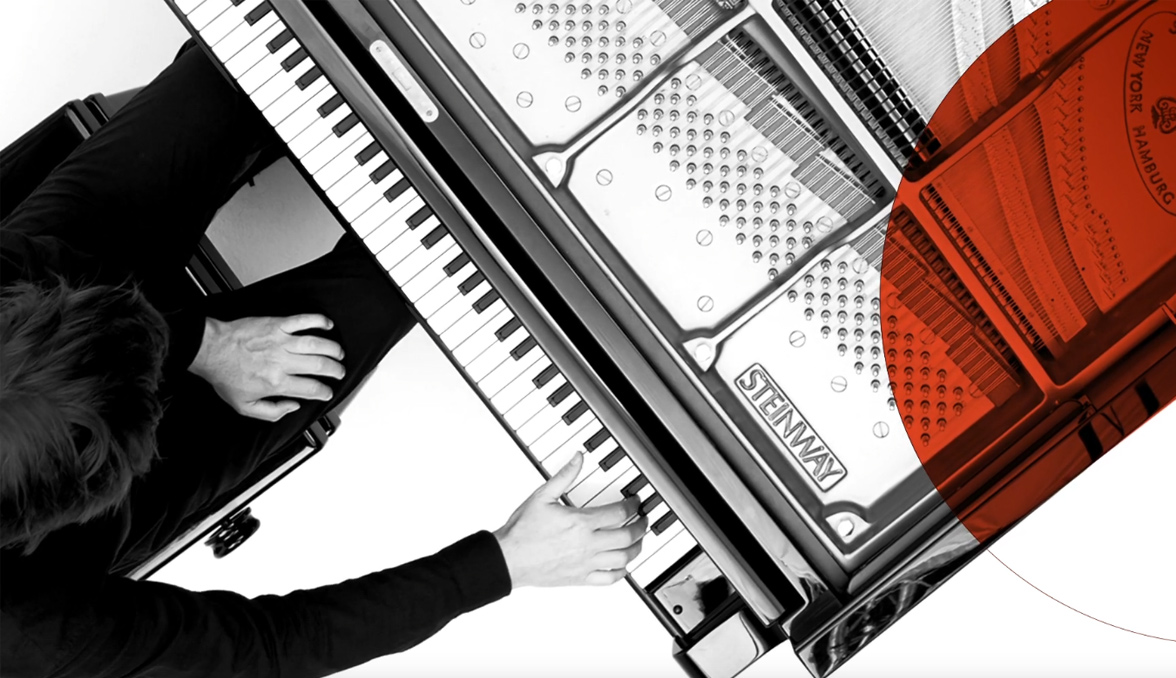 Wanderer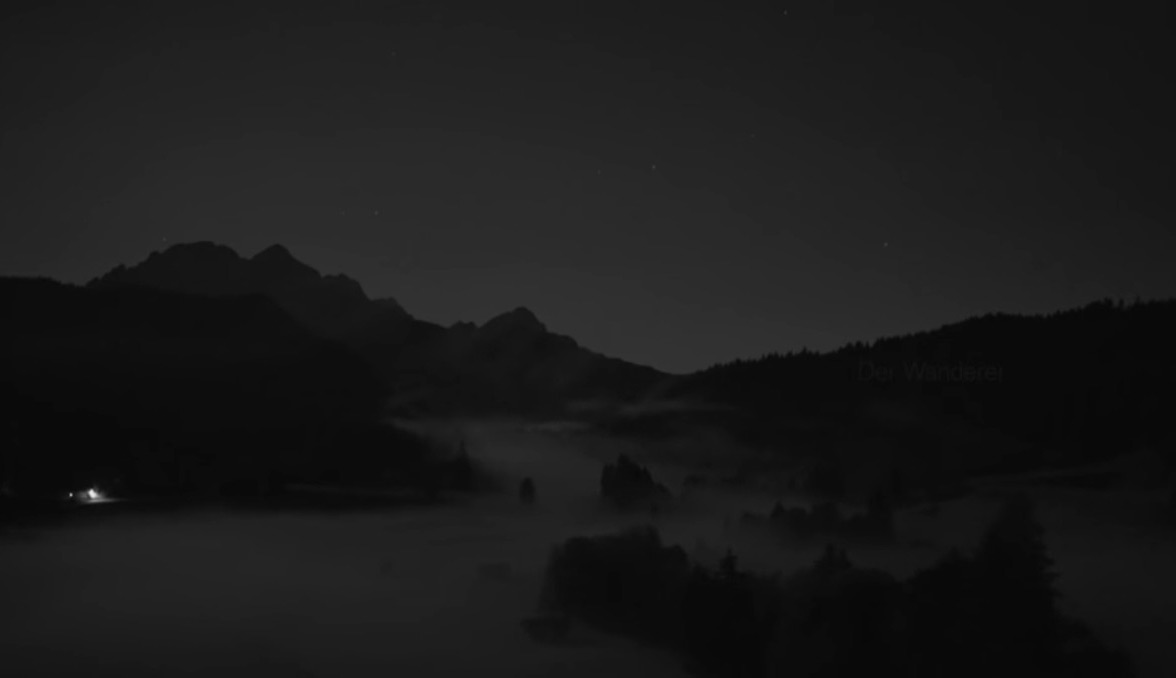 Heinz Sauer & Michael Wollny
With the duo of Michael Wollny and Heinz Sauer, two generations of German jazz come together. Both met for the first time in the jazz ensemble of the Hessischer Rundfunk. It's the beginning of a unique collaboration. "Let loose of control and see what happens" is what Wollny calls the credo of the do – in form of free improvisations, original compositions and interpretations of jazz and pop classics. Until this day the duo has released four internationally acclaimed albums. Each one unique, as well as every concert, every note, every moment of one of the most fascinating acts of European jazz.
Albums:
Don't Explain, 2012
If (Blue) Then (Blue), 2010
Certain Beauty, 2006
Melancholia, 2005
Heinz Sauer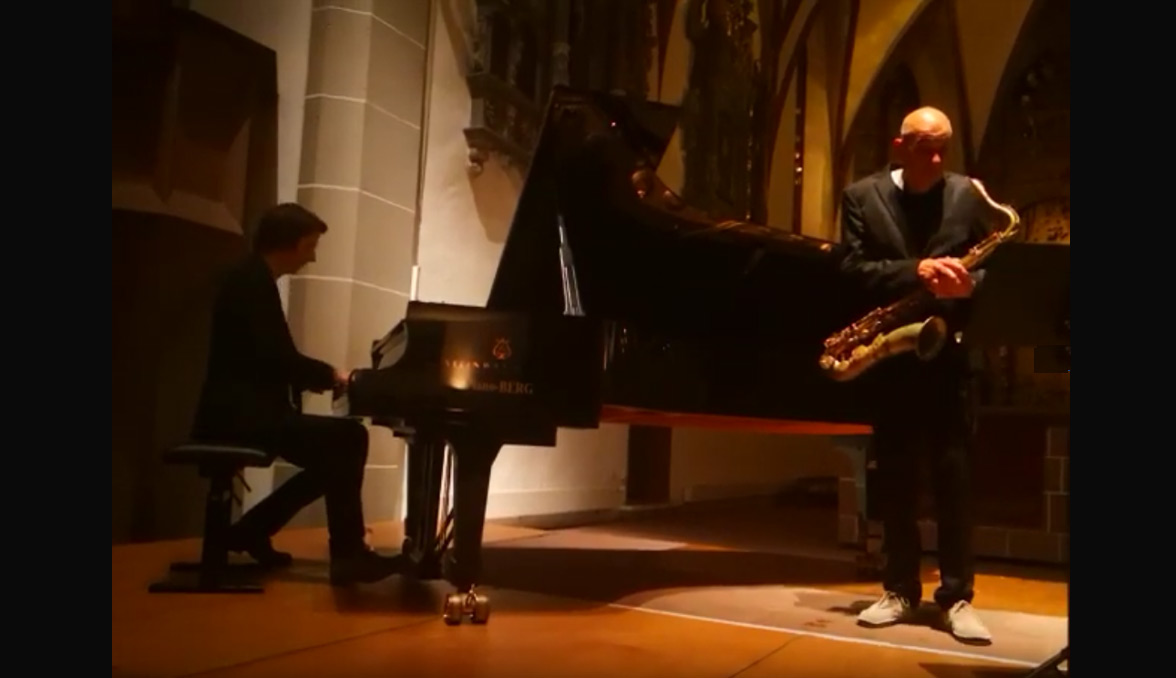 Michael Wollny & Vincent Peirani
The collaboration between Michael Wollny and the French accordionist Vincent Peirani, including the joint album "Tandem", is a rare stroke of luck for French-German jazz. Two musicians who understand each other blindly, who play and breathe music together. Wollny says of Peirani: "With Vincent you can move freely and unrestrainedly through a wide variety of styles and moods. You can throw anything at it, it is immediately absorbed, transformed and given back. Like high-speed tennis, in which the balls whiz back and forth. "Their duo is a dialogue between two musical fine spirits and virtuosos in the universal world language" jazz ".
Album:
Tandem, 2016
Michael Wollny & Vincent Peirani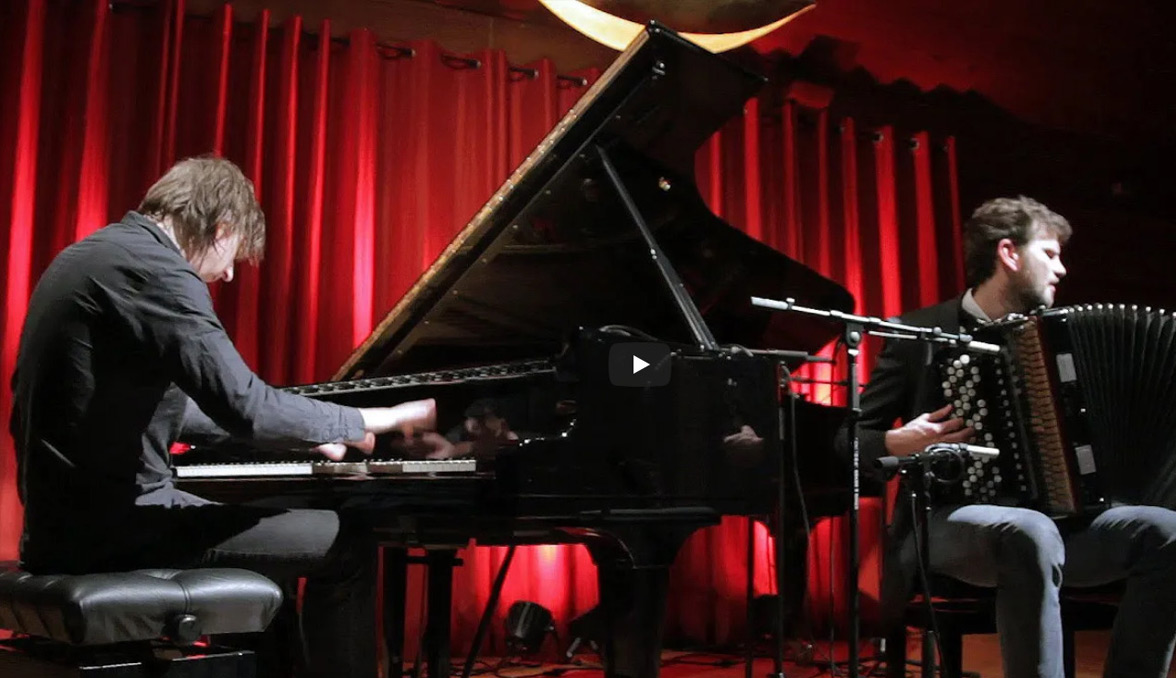 Michael Wollny & Emile Parisien
They are among the most important representatives of European jazz of their generation: the German pianist Michael Wollny and the French soprano saxophonist Emile Parisien. Both are connected by an immediately audible personal style on the instrument. And a musical horizon that seems to know no limits. Wollny and Parisien's musical paths crossed again and again, whether in the quartet "Out of Land", at exclusive concerts by the joint label ACT or, most recently, on the album "Wartburg" by the Michael Wollny Trio. And so it was only a matter of time before the two free thinkers approached what is probably the most intimate form of interaction, the duo Together, Wollny and Parisien create unique pieces of music that arise in real time and allow the audience to participate in a fascinating process of musical communication.
Albums:
Wartburg, 2018
Out of Land, 2017
Furthermore Michael Wollny played and plays in duo with artists the likes of Joachim Kühn, Nils Landgren, Gary Peacock, Tamar Halperin, Konstantin Gropper, Leafcutter John, Ib Hausmann and Alex Nowitz.
Michael Wollny has also played and continues to play as a duo with Nils Landgren, Pierre-Laurent Aimard, Gary Peacock, Tamar Halperin, Konstantin Gropper, Leafcutter John, Ib Hausmann and Alex Nowitz.
Since the debut album "call it [em]", the piano trio has been a constant format in Michael Wollny's musical universe. From beginning to present Wollny's Trio-Partner-in-Crime: Drummer Eric Schaefer, with whom he has spent almost two decades of playing, improvising and composing. The big breakthrough for the trio came in 2014 with the release of the album "Weltentraum". A real "game changer" that fascinatingly blends genres, epochs and styles of playing. From Coldplay over Schubert to Messiaen, from Monk to Evans. Since 2015, Swiss bassist Christian Weber has been a regular member of the trio and contributes as broad a range of expressions as his fellow musicians – from classic arc playing to free expression and deep grooves.
Michael Wollny Trio – Farbenlehre
4 Wheel Drive - Landgren / Wollny / Danielsson / Haffner
Four leading European musicians, one exceptional band. The basis for their musical explorations: the timeless songs by Paul McCartney, Billie Joel, Phil Collins and Sting. Their common drive: jazz. Nils Landgren, Michael Wollny, Wolfgang Haffner and Lars Danielsson – united as a quartet. Four leaders and soloists gathering speed together as team players. The album "4 Wheel Drive" became the most successful jazz production of the year in Germany. And the special energy of the quartet's live concerts can be relived on the album "4 Wheel Drive LIVE".
Albums:
4 Wheel Drive I, 2019
4 Wheel Drive Live, 2019
4 Wheel Drive II, 2023
4 Wheel Drive – Landgren / Wollny / Danielsson / Haffner "4WD"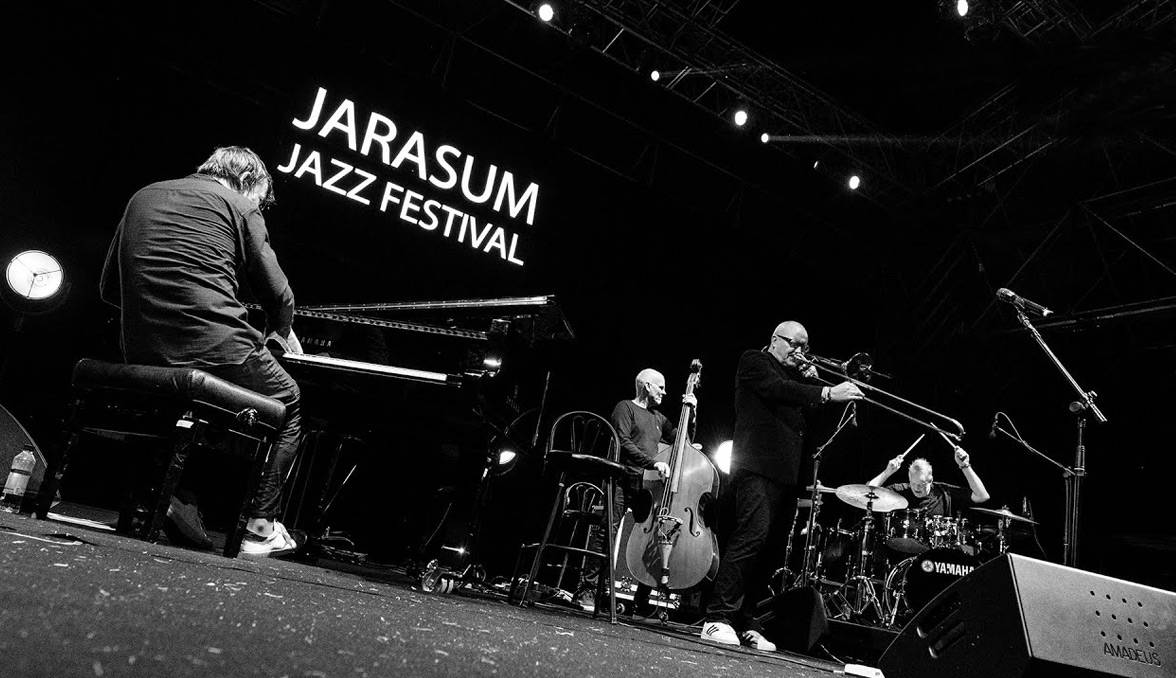 Out of Land - Parisien / Peirani / Schaerer / Wollny
For once, here's a band for which the word 'supergroup' is completely apposite. Swiss vocalist Andreas Schaerer, German pianist Michael Wollny, French accordionist Vincent Peirani and his saxophonist compatriot Emile Parisien are four of the brightest and most charismatic stars in European jazz, and they have now formed themselves into a quartet. Their concerts and their live recording "Out of Land" demonstrate why they are at the very pinnacle of jazz musicians of their generation.
Album:
Out of Land, 2017
"Three men, three pianos, one feeling – jazz": this is how German national television ZDF commented on the 2016 debut concert which the "three pianists" gave at the sold-out Berlin Philharmonic. In this artistically unique constellation three outstanding and highly individual piano characters meet – solo, in duo on two pianos and finally, for the grand finale, on three instruments. Leszek Możdżer, the undisputed star of Polish jazz, the Finn Iiro Rantala, a "natural event on the keyboard" (Jazz Thing), and Michael Wollny "the perfect piano master" (FAZ). All three are outstanding individual artists and well known leaders of their own ensembles, from duo and trio constellations, up to larger ensembles and orchestral projects. The encounter of these three unique musical characters sparks with virtuosity, emotion, wit and groove, with disarming and genre-spanning musicality.
Albums:
Jazz at Berlin Philharmonic VII – Piano Night, 2017
Jazz at Berlin Philharmonic I, 2013
Wanderer - Michael Wollny meets Christian Jost
Michael Wollny and Christian Jost are two exceptional artists from musical worlds which only seem to be different from one another. They have now joined forces and are working together, researching and discovering what they describe as a kind of "dark chamber music with the feeling of being as spontaneous as possible." Wollny is regarded as one of the most important European musicians of his generation and craft. Same applies for conductor and composer Christian Jost. The central element of their collaboration, which premiered on June 8th at the Berliner Philharmonie, is a common search for the magic of the moment within a musical world which is effectively without limit. Together with a hand-picked selection of orchestra musicians, Wollny and Jost create a musical universe which does have a fixed score as its basis, but which is also configured to give Michael Wollny as improviser room to find flowing connections between freedom and form as he plays. This is a concept which perfectly reflects Wollny's conception of jazz, which is based far more on a collective, organic, deeply musical flow of ideas than on solo prowess. And at the same time, it reflects Christian Jost's core concern, which is the "search for the magical moment, based on a complex and differentiated relationship between structure, form and sound."
Michael Wollny, Christian Jost & Members of the Berliner Philharmoniker – Nocturnal City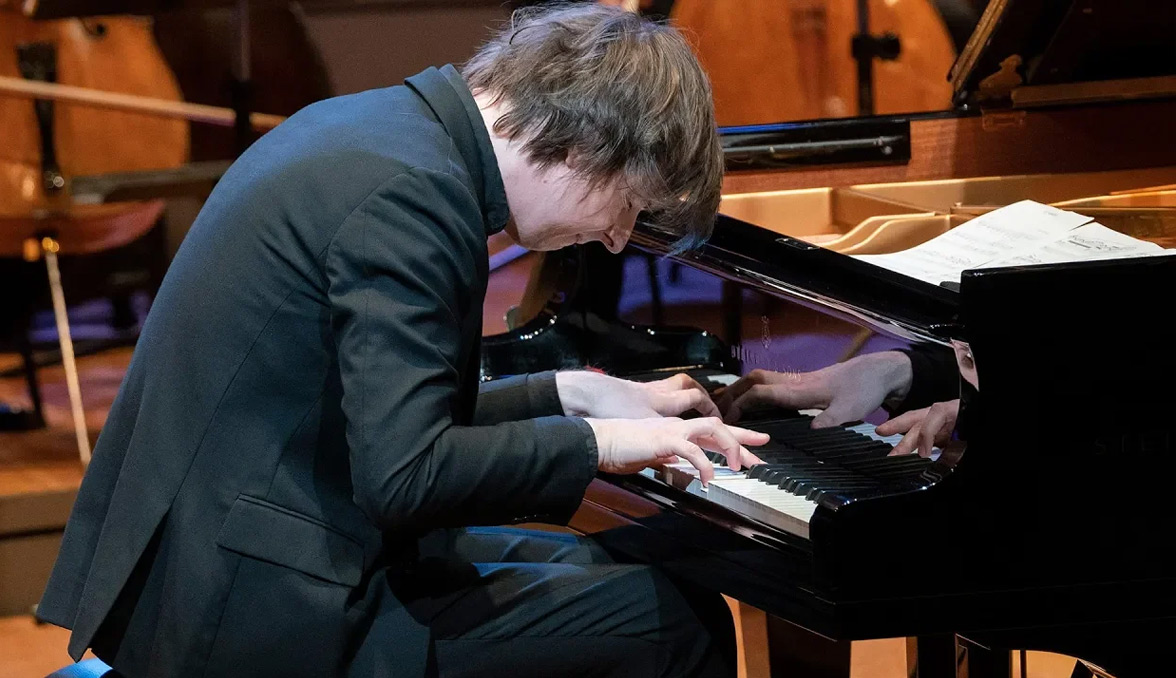 Michael Wollny & Norwegian Wind Ensemble
The Norwegian Wind Ensemble is most likely be unique in its kind in the world: A collectively improvising, symphonic wind ensemble, founded in 1734 and thus the oldest orchestra in Norway and at the same time highly innovative in almost every imaginable field of music. This in turn aroused the curiosity of Michael Wollny, himself a wanderer between genres, epochs and styles. Together they set the silent film classic "Nosferatu" to music, played in renowned classical houses like the Berlin Philharmonic as well as at international jazz festivals and Michael Wollny brought the ensemble into the studio for his album "Oslo". Michael Wollny is currently the ensemble's "Artist in Residence".
Album:
Oslo, 2018
Michael Wollny & Norwegian Wind Ensemble – Alte Oper Frankfurt 2016